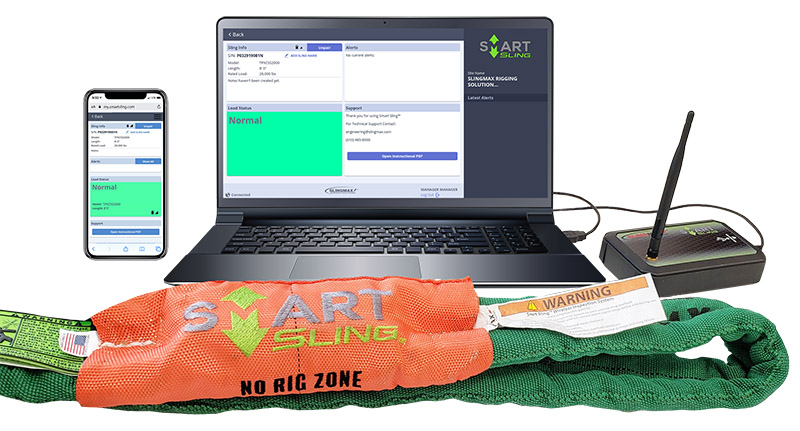 What is Smart Sling?
Planning and executing a critical lift is tough. Your crane is in position and it's time to begin the lift – you need to know that every detail is going as planned and that your people are not in danger. Mistakes happen – loads shift, human error and shock loads occur. With Smart Sling, you can monitor your rigging in real time and you are immediately alerted to critical overloads that would otherwise endanger workers or cause a catastrophic accident.
Smart Sling® Technology is engineered from the ground up for the overhead lifting industry. A proprietary radio frequency protocol was designed for maximum reliability. Custom computer hardware and software was developed with input from lifting professionals throughout the development process. Smart Sling gives you peace of mind without over complicating your lift.
Smart Sling Technology constantly monitors your Twin-Path® high performance sling for severe overload. If an overload is detected, an alert is immediately sent to users. Smart Sling is a hybrid system, combining digital and mechanical technologies to create a solution that is accurate and does not rely on latency or refresh rates. Inside your Smart Sling there is a weak link, independent from the load-bearing core yarns, that reacts when the sling is overloaded. This indicates that the sling may have experienced a load significantly higher than its rated capacity and a repair evaluation is needed.
Stay Connected
Smart Sling provides insight into your sling's condition
No matter where you are in the world, now you can monitor your lifts 24/7.  If a Smart-Sling is severely overloaded, all registered users are alerted immediately.  Whether you are responsible for one jobsite or many, remaining informed provides peace of mind.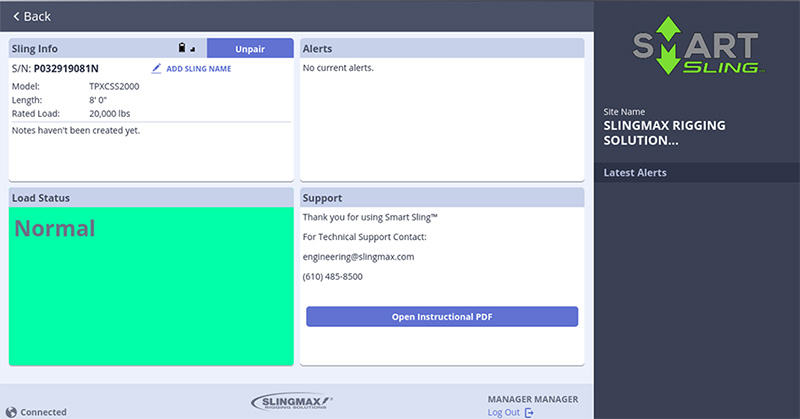 Smart Sling is Easy to use
Taking the complicated out of industrial software
Smart Sling Technology re-imagines how industrial software can work. Easy to set up, easy to use, and easy to monitor. Familiar web-based system means that anyone on your crew can start monitoring slings using any device within minutes.
Full Jobsite Coverage
Expand and customize your system
One Smart Sling basestation monitors up to 50 slings with a range of 1000 ft. Need more coverage? Additional basestations can be added to your system so you can monitor the entire jobsite from one device.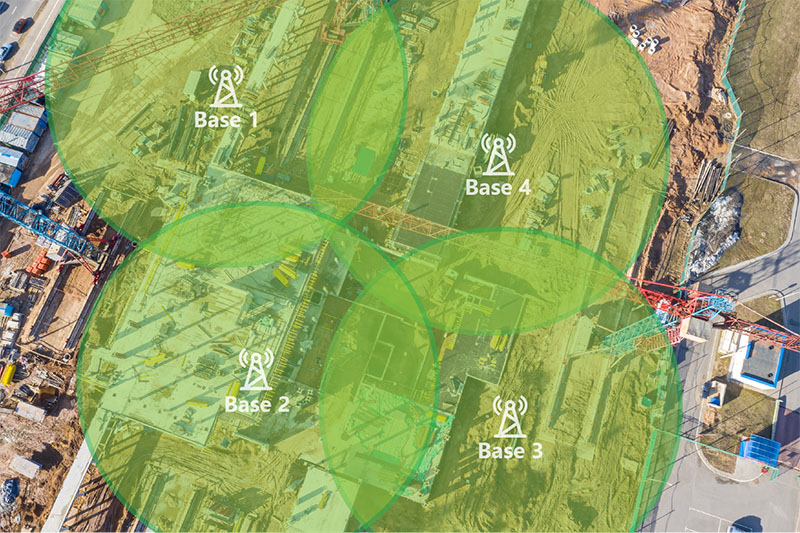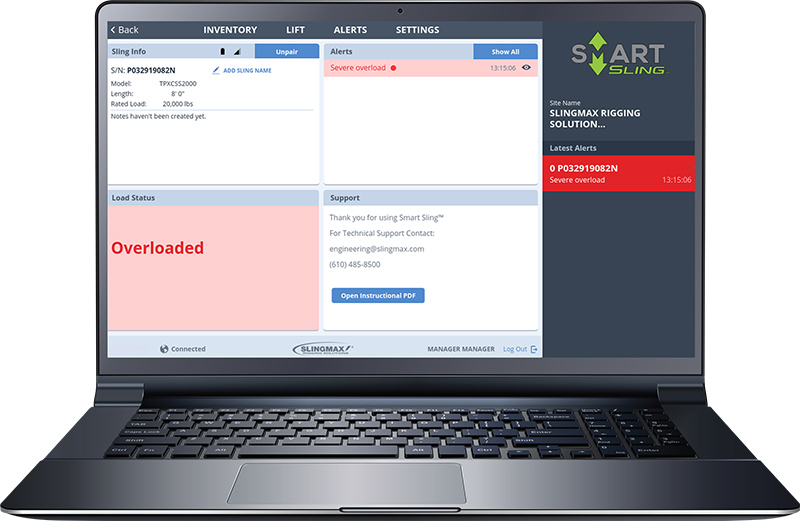 Be Informed
Alert history
Mistakes happen. In order to know what went wrong, you need to know what happened and when it happened. Smart Sling creates a record of which slings were overloaded and timestamps when. Notes can be added to each sling to keep all users informed of the sling status.
Keep It Simple
No additional rigging required
The Sling Overload Sensor is embedded inside every Smart Sling and is constantly monitoring for overload. Featuring a two year always on battery, there is no need to turn Smart Slings off or charge between uses. With Smart Sling, complicated external load measurement devices are no longer needed.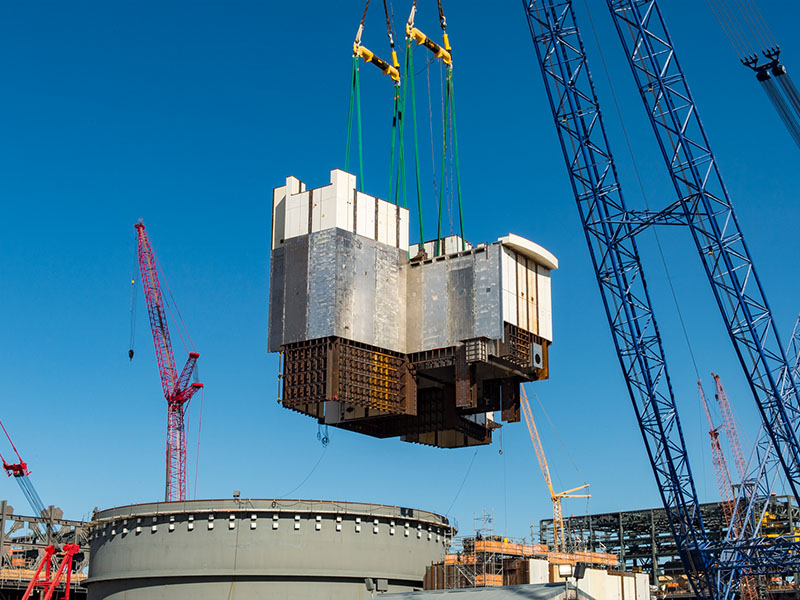 Benefits
No additional rigging required
Reduce risk to your workers
Reduce costly accidents
Accountability
Peace of mind
Improve morale
Objective safety milestones
Monitor multiple job sites remotely
Features
Instant notice of critical overload
SMS text message & email alerts
Intuitive software
Track 50 slings at once
1000+ foot range
Two-Year battery life
Water resistant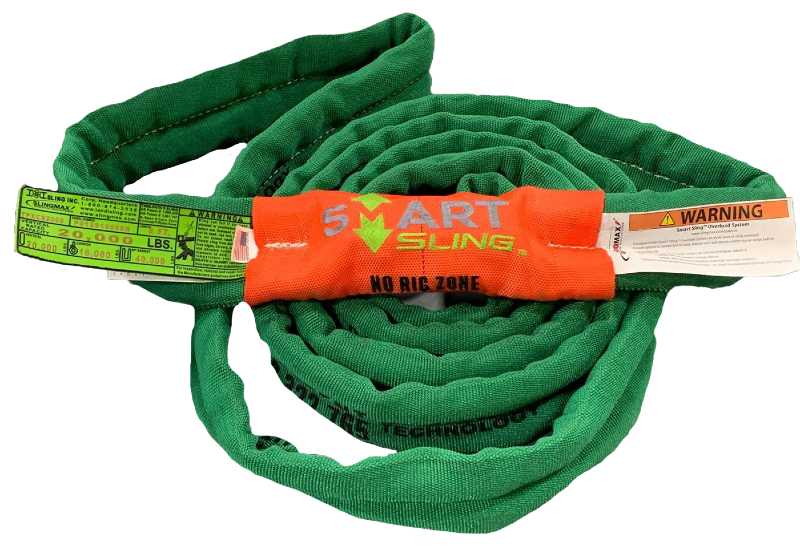 Smart Sling Technology is Exclusive to Twin-Path Slings
For over 30 years Slingmax Twin-Path® high-performance synthetic roundslings have been used worldwide in place of steel rigging for heavy lifts. Twin-Path slings are approximately 10% of the weight of a steel sling and are globally repairable by authorized manufacturers. Twin-Path® high performance round slings are manufactured with K-Spec® Core Yarn. Independent testing shows that K-Spec® core yarn is the longest lasting load-bearing core yarn in any lifting sling.
Smart Sling® Technology is only available in Twin-Path high performance roundslings.
Sling Sensor
IP67 (submersible to 1m depth)
Base Station
IP44 (splash proof)
Laptop
N/A
Sling Sensor
-40° F to 120° F
Base Station
-40° F to 120° F
Laptop
32° F to 95° F
Sling Sensor
-40° F to 120° F
Base Station
-40° F to 120° F
Laptop
-40° F to 149° F
Sling Sensor
1.5" x 2.25" x 5" (H x W x L) (inside sling)
Base Station
1.3" x 3.5" x 5.75" (H x W x L)
Laptop
0.8" x 5.7" x 10.1" (H x D x L)
Sling Sensor
Integrated
Base Station
5 inch Folding Swivel Antenna
Laptop
N/A
Sling Sensor
915 MHz ISM (US)
Base Station
915 MHz ISM (US)
Laptop
N/A
Sling Sensor
2 X Non Rechargeable Lithium Metal Batteries (3.6V)
Base Station
USB Micro-B (5V)
Laptop
Integrated 2-Cell 32 WHr Li-Ion Battery
Sling Sensor
< 85 μA
Base Station
< 400 μA
Laptop
N/A
Sling Sensor
1-2 years (continuous)
Base Station
N/A
Laptop
Varies on operating conditions
Sling Sensor
1000 ft (150 m)
Base Station
1000 ft (150 m)
Laptop
N/A
The Smart Sling® system will immediately alert users of an overload situation.  The laptop monitoring your Smart Slings will display a red "Overload" alert on the screen if an overload is detected in any of your Smart Slings. Overload Alerts will also immediately be transmitted through text message and email to any registered users on the system who have been designated to receive alerts. These text and email alert messages will be received regardless of location.
In the event of an overload situation,  the overloaded smart sling must be returned to an Authorized Slingmax® Smart Sling repair station. If the sling passes inspection and proof load, then the Smart Sling® system will be reset and the sling can be put back into service.
Smart Sling® is designed to react below 50% of the ultimate breaking strength of a Twin-Path® roundsling. All Twin-Path® slings are proof loaded to two times their rated capacity so the system is set to operate over proof load but within 50% of the sling's ultimate design factor.
No. The system is FCC/ IC tested and certified. Wireless devices are all regulated by the FCC in the United States, and by IC in Canada, so that they can operate without interference with each other. The hardware went through real world testing to make sure it complies with all regulations.
No. There are many limitations to using Bluetooth technology. Battery life is very low and requires charging at least daily. Bluetooth devices must be powered on and off and the range on Bluetooth devices is very short. There is also a limit to the number of devices that can be connected at one time using Bluetooth. With Smart Sling® you can connect up to 50 slings from one device with a range up to 1000 feet using a single base station. Additional base stations may be added to expand your system's range.
We developed our own radio frequency protocol that runs on the 915 MHz Industrial, Scientific, and Medical (ISM) band. It runs at a lower frequency than Wi-Fi or Bluetooth, and we have incorporated frequency hopping into the software. The system has access to 64 channels within the 915 MHz system and it hops across these channels every 400 milliseconds to avoid interference.
FCC
ISED
The batteries will last up to two years and are not rechargeable. Rechargeable batteries would have to be charged frequently, which is not convenient. Smart Sling batteries must be changed by an Authorized Smart Sling Dealer under controlled conditions in order to protect the electrical components. Slings require an annual inspection, so it is recommended that your Authorized Smart Sling Dealer change the batteries during this inspection.
The Sling Overload Sensor and its components are built into the sling to make using a Smart Sling® as easy to use as a normal Twin-Path® high performance roundsling. There are no external or exposed parts, and the electronics are secured within an IP67 rated weather and impact resistant enclosure to protect from the environment. The Sling Overload Sensor is protected from the ingress of water to a depth of 3 feet for up to 30 minutes . When the Sling Overload Sensor is underwater, it is unlikely to be able to maintain a connection to the base station, but once it is taken back out, it will reestablish communications. Smart Slings® are designed for incidental contact with water. The electronics can survive Twin-Path® temperature limits and are also shock tested to 10g. Smart Slings® are clearly marked with an orange "No Rig Zone" that indicates the internal location of the Sling Overload Sensor. Slings should never be loaded on this area.
Initially you will need a laptop and a base station. The laptop runs the Smart Sling® software and the base station communicates with the slings. Only one setup is required to monitor up to 5o slings simultaneously. The provided laptop is dedicated solely to the Smart Sling® software. It does not run any other programs that might cause interference with the software.
It is easy to expand the range of your system by adding additional base stations.
No. Just like the Check-Fast® Inspection System, we will not retrofit existing slings. All components of the sling system must be in new working order.
Yes. If an overload is detected, the sling should be sent back to an Authorized Smart Sling Dealer for evaluation. If it is determined that the integrity of the sling has not been compromised, the Smart Sling® System can be reinstalled and re-certified for use.
Yes. Only you can see your data. Data is only stored within your system, be we can assist you remotely if you have issues or questions and will permit us access.
Yes. The Smart Sling® system can be monitored using our fully responsive web application, which can be accessed by clicking the client portal button on the website. Users are also able to add a shortcut button to the home screen of their mobile device that makes the Smart Sling® web app just as simple to access as a native app. This allows users to log into their Smart Sling® dashboard to view all connected slings, or to monitor a lift from any device.
Smart Sling® builds on, and improves on, the existing overload detection system installed in Slingmax Twin-Path® slings; the Check-Fast® Inspection System, which has been in use since 2006 on over 500,000 Twin-Path® slings worldwide. Smart Sling employs a mechanical system in the core fibers that instantly and irreversibly reacts to overload.
In the event of an overload, the Smart Sling® mechanical system immediately reacts, causing the Sling Overload Sensor to emit an overload signal to the laptop indicating that the load on the sling has exceeded over twice its rated capacity.
A Load Moment Indicator (LMI) is designed to monitor the entire load, which only protects your crane. Load cells and Load Moment Indicators will tell you the load applied, however they will NOT tell you if you have overloaded anything. Neither a load cell or an LMI will monitor the condition of every sling during the lift.  Smart Sling monitors loads on each individual sling in your lift plan. Individual slings may be overloaded due to variables such as improper rigging, extreme sling angles, dynamic loading, and uneven load distribution. Any of these may cause one or more individual slings to be overloaded while the total load remains below the capacity of the crane.